They aren't amongst the favourites for the World Cup, but Gareth Southgate's side could cause an upset this summer.
After all, we have one of the best strikers in the world and that's often – but not always – an advantage. However, Southgate will have selection issues as on paper as there are many players who could have an impact.
Since becoming the England national team manager back in 2016, Southgate has always preferred three defenders at the back. With Manchester City's John Stones and Leicester's Harry Maguire looking assured of their places in the World Cup, Kyle Walker has been shuttled between right back and central defence in some friendlies.
We've seen in previous tournaments – notably 1990 – that some flexibility is desirable when picking a team. Southgate will be expected to field creative players like Dele Alli even though a 3-4-3 would not favour the Tottenham midfielder. Alli is not a flying wing player like Raheem Sterling or Alex Oxlade-Chamberlain but he can cause problems for defences by dropping in the hole behind Kane and creating chances.
Southgate has a number of options upfront: Danny Welbeck and Harry Kane have very good strike rates at international level, with Jamie Vardy and Marcus Rashford in reserve. Vardy could be an ace in the hole this summer, especially if Southgate decides to go for a surprise 4-4-2 line up – even if that means omitting Dele Alli: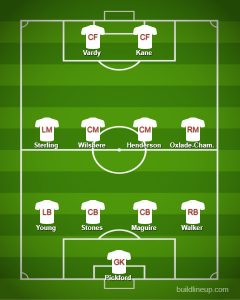 An alternative could be a 4-3-1-2 formation: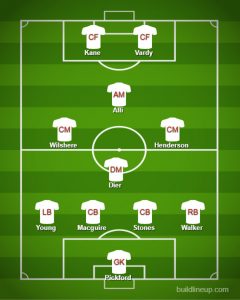 That's without picking the likes of Rashford, Lingard, Smalling, Trippier, Shaw, Bertrand and
Jones, who will all hoping to earn a flight to Russia in a few weeks time. Flexibility could be Southgate's secret weapon in the 2018 tournament, but a lot may depend on the individual performances of Kane and Alli on the biggest stage in the football world.
Both the players and the fans will be hoping for a better performance than in Brazil four years ago: on paper, the players who could feature in Russia this summer should be able to get out of Group G but that's what we assumed last time round – and look what happened then!