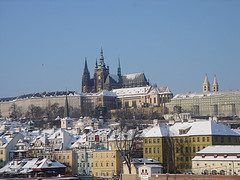 Here's the incredibly late update about the Europa League:
Manchester City will play Aris Salonica of Greece, first leg in Salonica the day after Valentine's Day – I know a bit about Greek football and I can't imagine there'll be that many goals in either leg – Aris know how to park the bus away from home in particular.
A couple of days later Liverpool travel to Prague (left) to play Sparta. The Czech league has a massive winter break that starts in November and doesn't end until after the Liverpool game, so at least the hosts will be well rested 😉
It's only a month since the last post and it's incredible how quickly things have changed: I thought Rafa Benitez would be out of a job, but Kenny Dalglish going back to Liverpool actually made me laugh!